Wedding Hairstyles and Wedding Makeup
Only the best for the most important day of your life!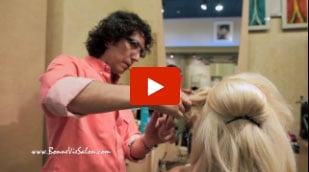 Bonne Vie Salon is a unique bridal salon for wedding hairstyles and wedding makeup that offers incredible inspiration, encouragement, and a second opinion during the biggest moment of your life. You've looked at thousands of wedding hair options, picked out the perfect dress, shoes, location, and man. Now let us perfect your dream wedding hair with one of the best salons in Orlando.
Stunning Wedding Hair Styles
Come into our beautiful, professional wedding hair salon located just minutes from downtown Orlando, where you will feel the amazing energy and enthusiasm for your big day. As a bridal salon in Winter Park, FL with years of experience in helping women with their dream wedding hair, we will create beautiful styles that compliment your face shape, wedding dress, personal style, and wedding theme.
Wedding Makeup from Professional Wedding Cosmetologists
With our professional cosmetologists, we will assist you with your wedding hair to your wedding makeup in Orlando, FL. From smokey eyes to a more angelic look, we will help with picking out the perfect wedding makeup for your natural skin tones, and styles that will accentuate your attire. If you're concerned about whether not to wear a veil, or to show off your luscious locks, we can help you make the best decision possible. Our bridal salon will be there during all of your difficult decisions, so all you have to worry about is saying, "I do."
Wedding Hairstyles & Makeup for Picture Perfect Wedding Photography
Capture picture-perfect memories in your wedding photography by having the wedding experts at Bonne Vie Salon. We are happy to assist with your bridal party's wedding hairstyles and wedding makeup, so everyone looks cohesive and beautiful in your wedding pictures. Make a bridal appointment today with the best bridal salon in Orlando, FL. We will put those final touches on your hair and makeup so your wedding is picture perfect.
Wedding Hairstyles and Wedding Makeup Gallery
Every service provider at Bonne Vie salon works on a level system.
This level system completes two main goals.
The first is to provide career growth and achievement for the Bonne Vie's team.
The second is to provide several options for your various service needs.
Service providers get level promotions based on the demand for their time.
Guests may choose the level that best fits their needs & their budget.
The training of our team is consistent, innovative, and in-depth.
It starts from the moment a service provider is hired & continues through the entire career with Bonne Vie.