Cancer Safe, Organic Hair Color Systems for Cancer Patients in Orlando
Coloring your hair the safest way possible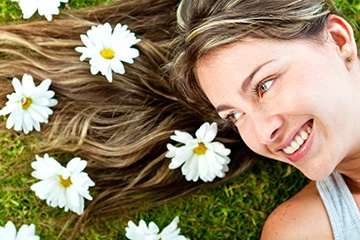 As you go through cancer treatments, or as you begin your recovery stages, your hair and body will be incredibly sensitive to basic ingredients found in hair dyes. Bonne Vie Cancer Salon located just minutes from Downtown Orlando, FL offers specialty hair care for cancer patients.
Our team of trained stylists have developed a unique approach to the process of caring for clients that have been treated for cancer. We carefully consider your medical condition, and recommend the best course of action for your personal situation. With over 6,000 more follicles on the human scalp then there are on the human skin, taking caution with your hair care products is a must. Ammonia, one of the leading ingredients in hair dye, must be avoided at all costs for cancer patients in Winter Park, FL. Among many of the organs that are affected by cancer treatments, the liver, which detoxifies proteins of poisonous ammonia, is weakened. Introducing additional ammonia through the blood stream can cause severe damage. 100% organic ingredients for cancer patients is the best alternative to traditional ammonia based dyes. Cancer patients in Orlando, FL can depend on Bonne Vie Salon to use Organic Color Systems to avoid any harm to a weak immune system using the best ammonia free product.
Organic Color Systems that are Cancer Safe Offers an Advanced Approach with:
No ammonia or ammonia derivatives
No resorcinol, no formaldehyde
No color fading or banding
No problems with resistent Grey Coverage
No damage to the hair's structural integrity
No putrid toxic fumes, no irritation
No animal testing, no animal by-products
No more sacrificing health for beauty
No disrespect for client health and comfort
No limitations of your creativity as a colorist
Organic Color Systems is the worlds first professional-only, ammonia free, permanent hair color system that uses 100% certified organic ingredients for cancer patients. Visit Bonne Vie Cancer Salon in Orlando, FL to experience a different approach to the traditional hair dying process. With us, you will be in good hands, and walk out of the salon looking (and feeling) beautiful.
Call 407-875-2525 today for your appointment at our Orlando Hair Salon on our Cancer Safe, Organic Color Systems