Ombre Hair Color Technique.
Ombre Hair – Exclusively at Bonne Vie Salon in Orlando, FL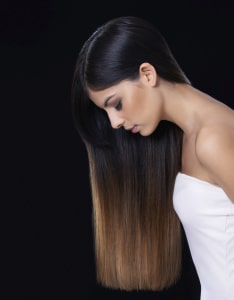 It's no secret that celebrities have gone crazy over ombre hot new trend and we can see why! At Bonne Vie Salon we believe that every client should look and feel like a celebrity! Our stylists stay current with all the newest trends, so it's no surprise to us that our clients only trust our colorists to give them the hot Ombre look everyone is raving about.
Get the Ombre to look exclusively at Bonne Vie Salon of Orlando, FL.
What is Ombre Hair Color?
The word Ombre is a French word meaning two-toned. Ombre hair color can be as dramatic and bold as our clients' request. Ombre means a darker color that fades to a lighter color with no line of demarcation at your roots. This type of coloring leaves the hair dark at the base, and light at the end. At Bonne Vie Salon we take innovation and creativity to new heights. Our stylists are trained to stay current with all the latest trends, that's why our clients ONLY trust Bonne Vie Hair Salon to create a breathtaking Ombre color.
How to achieve the Ombre look.
Ombre hair color should only be performed by a skilled colorist. Our highly skilled colorists come from all over the world and are professionally trained in the Ombre hair coloring technique. Ombre hair color is a two-step process with the base color applied first and highlights added to clean, dry hair. Our main priority at Bonne Vie Salon of Winter Park, Florida is to create a vibrant color without damaging the hair, therefore we only use Wella, Goldwell, and Pravana products. Our creative colorists will give you that bold look you've been dreaming about! This style can also be created with the use of hair extensions.
Our stylists at Bonne Vie Salon of Winter Park, FL truly shine when it comes to creativity!
Why is the Ombre look so desirable?
We can't say enough about Ombre hair color! This hair color is super chic and trendy because it truly looks fabulous on everyone. This trendy style requires very low maintenance, so it is perfect for clients who have a very busy lifestyle. This look allows clients to be as creative as they want to be. The Ombre is perfect for women with dark hair who love blonde. Also, for those clients who like to experiment with color.
What is the difference between Balayage and Ombre?
Balayage is a free-hand technique in which the colorist sweeps lighter strokes at the base and heavier strokes at the end. This results in a much more natural, sun-kissed hair color. The Ombre look is very striking. Ombre hair color can be dark and rich at the roots and blonde or bleached at the ends. Whether you want to stand out and have your hair fade into a fun color, such as purple or pink, or you want a subtle natural look, the Ombre is the way to go!
Is Ombre hair color right for me?
If you still aren't convinced that the new trendy Ombre hair color is right for you, our trained and certified Vidal Sassoon and Frederic Fekkai hair stylists are here to ease any worry you have. Our colorists will analyze the warm or cool tones in your skin to create a sensational color!
Ombre hair color works beautifully with all types of hair. From tousled hair to cascading curls, Ombre can bring any hair color to perfection.
Our dynamic colorists with creating a customized look you will love and adore.
We want your fabulous new Ombre hair color to stay healthy and shiny!
Treatment for colored hair is incredibly important so that your hair doesn't become damaged. Bonne Vie Salon is an exclusive purveyor of Davines, ORIBE, and Moroccan Oil products. These incredibly luxurious products will provide moisture-rich formulas with natural oils to keep your hair color healthy and shiny!
Every service provider at Bonne Vie salon works on a level system.
This level system completes two main goals.
The first is to provide career growth and achievement for the Bonne Vie's team.
The second is to provide several options for your various service needs.
Service providers get level promotions based on the demand for their time.
Guests may choose the level that best fits their needs & their budget.
The training of our team is consistent, innovative, and in-depth.
It starts from the moment a service provider is hired & continues through the entire career with Bonne Vie.
Call Now For an Appointment at Bonne Vie Hair Salon. Get the Ombre Look! 407-875-2525