Olaplex Treatment Exclusively Offered at Bonne Vie Salon-Orlando, FL Dramatically eliminate breakage!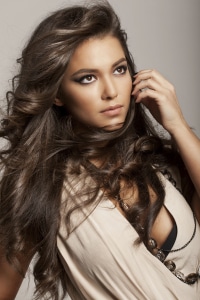 At Bonne Vie Salon we have made a reputation for creating fabulous color without compromising the integrity of the hair. Since chemically processing your hair can be damaging, we suggest that all our clients receive Olaplex treatments after processing. Come find out why our clients ONLY choose Bonne Vie Hair Salon, of Orlando, FL for their coloring needs.
This product was invented by the world's leading Ph.D.'s in Materials and Chemistry, Dr. Eric Pressly and Dr. Craig Hawker. They wanted to create a silicone-free, oil free ingredient that linked broken bonds in the hair after being chemically processed. As a result Olaplex Hair Treatment was created!
This allows clients to dramatically change their hair color without damage! Clients who want to go blonde, or more blonde, but are terrified of the potential damage, now can! This miracle in a bottle has truly changed how we feel about hair repair treatments, and because we only want to best for our clients, we are offering Olaplex services to everyone! Bonne Vie Salon is the most recommended amongst salons that use Olaplex in Orlando!
What is Olaplex?
Olaplex is a hair repair treatment that has most colorists in shock! This hair treatment has corrected even the most damaged of hair. There is NOTHING on the market like Olaplex.
Olaplex is offered in 3 steps, The choice is yours!
Olaplex No. 1 is the hair color additive, a product that is mixed in with hair color and applied during the color application process. While the color is processing, the active ingredient in Olaplex internally relinks hair bonds.
Olaplex No. 2 is a cream substance applied to the hair at the shampoo bowl after the chemical service as a treatment. The treatment also works to rebuild bonds and repair the hair.
Hair Perfector Olaplex No. 3 is a take-home treatment used once a week to strengthen hair further or to use as a pre-treatment to a future chemical service.
Is Olaplex safe for my hair?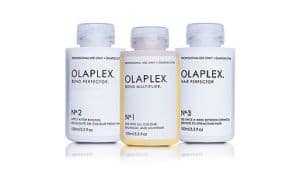 Unlike many other treatments, Olaplex is free of silicone, sulfates, phthalates, DEA, aldehydes. This one-of-a-kind product has one active ingredient, Bis-Aminopropyl Diglycol Dimaleate. Olaplex will reduce breakage, extend the life of your color and give softer, shinier hair. This product is safe for all hair types and textures.
To understand how Olaplex works, we must first explain the chemistry of hair.
A single human strand of hair is made up of 90% fibrous protein, commonly called keratin. Keratin is made up of polypeptide chains of amino acids such as glycine, alanine, and cysteine. Cysteine is an important structural and functional component of proteins and enzymes. Each individual amino acid is held together by polypeptide bonds. The strength of these proteins and bonds are responsible for the hair's overall shape and strength. Many different factors can break these bonds, such as repeated heat, hair styling, and processing the hair. This results in damaged, weak hair.
How does Olaplex work?
Olaplex reconnects the broken bonds that are weakened or broken during the coloring process. Chemically processed hair, along with perms, and straightening contribute to the damage of your hair. Olaplex works with your hair in repairing that damage.
By adding it to your color or using it as a treatment, Olaplex goes through internally and links these single broken disulfide bonds, thus making the hair stronger," Lim said. "This allows you to take the hair lighter since there are more bonds to be broken."- Sara Lim (Co-vice president of education for Olaplex)
Bonne Vie Hair salon, only providing the Best Color Correction Healthy Hair is Beautiful hair!

Many times we have new clients seeking our help because someone damaged their hair during the coloring process. At bonne Vie salon we will never jeopardize the integrity of your hair just to achieve a color. Our stylists will work with your hair, creating a balance between beautiful color and the health of your hair. Imagine being able to dye your hair without ever damaging it! Now you can, with Olaplex! We are known for being the Best Color Correction salon of Orlando!
At bonne Vie Salon of Winter Park, FL we strive for excellence. It is our goal to make each and every client look and feel beautiful. Olaplex really allows us to create a fantastic color without compromising the hair. Come find out why everyone is raving over Olaplex Treatments of Orlando!
Dare to be Bolder at Bonne Vie Salon Orlando FL
Every service provider at Bonne Vie salon works on a level system.
This level system completes two main goals.
The first is to provide career growth and achievement for the Bonne Vie's team.
The second is to provide several options for your various service needs.
Service providers get level promotions based on the demand for their time.
Guests may choose the level that best fits their needs & their budget.
The training of our team is consistent, innovative, and in-depth.
It starts from the moment a service provider is hired & continues through the entire career with Bonne Vie.
Call Bonne Vie Salon at 407-875-2525