Makeup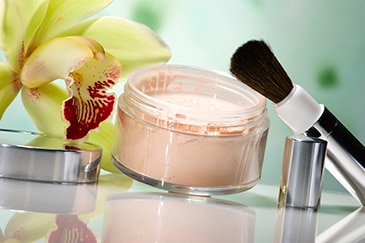 Bonne Vie Cancer Salon in Orlando, FL offers a wide selection of mineral makeup safe for cancer patients. Using the Jane Iredale Skin Care Make Up is a great way to keep your body healthy, while still looking fabulous. While going through cancer treatments, patients need to be highly aware of any products they use on their skin and scalp. As a specialty cancer salon in Winter Park, FL we have researched the highest quality make up safe for cancer patients, and our research has led us to Jane Iredale. As a mineral based makeup, its primary ingredients are safe to be absorbed into the pores of anyone going through treatment or after treatment. Honestly, we think everyone should use Jane Iredale skin care make up for its amazing quality and ingredients. As the best cancer salon in Orlando, FL, we aim to provide a wide variety of options so that you don't have to give up anything that you love. From concealers to eye shadows the stylists at Bonne Vie Cancer Salon are here to help you pick out the right colors and textures for your skin.
The Jane Iredale products that we carry in Orlando, FL offer amazing advantages including:
Four-in-One Skin Care
The multi-tasking products, Amazing Base, Pure Pressed Base, Glow Time and Dream Tint, provide four important functions in one: foundation, concealer, sunscreen and active skin care benefits.
Beautiful Finishes
The nature of high quality minerals is to interact with different shades of light. This is what gives them their celebrated soft-focus effect. The Jane Iredale skincare make up line includes a variety of cancer safe foundations that provides a range of finishes from sheer to full and from luminescent to velvety.
Amazing Coverage
Because Jane Iredale's cancer safe make up uses pure mineral pigment with no fillers such as talc, our foundations and concealers give exceptional coverage that requires minimal touch-ups, because we know you have more important things to worry about!
Non-comedogenic Products
The Cancer Safe foundations found at Bonne Vie Cancer Salon in Orlando, FL form a protective barrier on the skin that allows it to breathe and function normally. Laboratory tests confirm that all of the Jane Iredale products are non-comedogenic and do not block pores.
Sun Protection That Truly Makes A Difference
Six jane iredale products have earned the Skin Cancer Foundation Seal of Recommendation. To earn this seal, a manufacturer must provide scientific data showing that its products sufficiently and safely aid in the prevention of sun-induced damage to the skin. This is important for anyone going through cancer treatments in Winter Park, FL.
A Minimum Allergy Risk
The Cancer Safe Make Up is safety tested, allergy tested, clinically tested and dermatologist tested to ensure avoidance of any ingredients that may be skin sensitizers.
Anti-irritant Ingredients
Jane Iredale Makeup makes a conscious effort to include anti-irritant ingredients in their products because this can measurably contribute to skin health. This helps make the makeup safe for cancer patients even better, because of its sensitivity.
As a specialty cancer salon in Winter Park, FL we are always looking out for your best interest. Makeup makes a woman feel beautiful and elegant. Just because you have been diagnosed with cancer, doesn't mean you cant still feel that way. With our cancer safe make up in Orlando, FL you will be able to wear make up just as you always have, while protecting your skin.
Feel beautiful, be beautiful, and visit Bonne Vie Cancer Salon