Orlando Women's Wigs
Orlando Women's Wigs
View Our Hair Loss Brochure
If you are experiencing medically induced hair loss in Orlando, FL, or balding from other uncontrollable circumstances, we're here to help you feel beautiful and have hair once again. Bonne Vie Salon in Orlando, FL offers the best wigs available today. Our wigs in Orlando, FL come in a wide variation of colors, textures, and synthetic or real human hair. We strive to give each of our clients an opportunity to find the perfect fit. We want you to work with our trained stylists to try on as many wigs necessary until you find one that makes you feel like you again.
Hair is not just for aesthetic purposes, and we understand that when it comes to losing your hair, it can be an emotional battle. Hair allows you to feel beautiful and no one wants to have others wonder why they don't have hair. Uncomfortable feelings can arise when experiencing medically induced hair loss, or other forms of hair loss. But it's okay! We can help you feel like yourself again with beautiful, styled wigs that fit your personality and looks.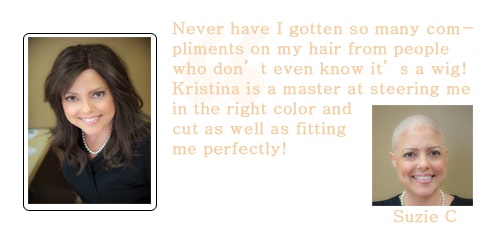 Though some wigs may look like they don't belong, our wigs in Orlando, FL are specifically crafted to appear as if it is hair growing from your scalp. You can shower in it, sleep in it, swim in it, and truly feel like you have hair once again! The highly trained and eager stylists at Bonne Vie Salon are ready to help you cut your desired wig to any style you wish. If you are looking for some advice on which wigs will look the most natural on your skin tone, we're ready to help! We love giving our clients 100% attention to detail, providing superior service that excels in all areas of Bonne Vie Salon.
Find your perfect wig today and allow one of our wig specialists in Orlando, FL to help you pick it out. Your hair is more than just hair, it's apart of you, and we want to help you get that part of you back!
Contact us today for a FREE consultation for a women's wig.