Natural Looking Men's Hairpieces in Orlando
Men's hairpieces at Bonne Vie Salon are custom tailored to your specific needs. We offer the best hairpiece in Orlando, FL in a wide array of sizes, colors, and textures in order to fulfill every persons needs. Our hair crafts for men are custom fitted, sized, and styled for anyone in Orlando, FL needing hairpieces. Our hairpieces come with the option to be permanently adhered with the highest-grade adherents, or given to be worn on a temporary basis. Choosing to have your hairpiece permanently adhered is easy! The gluing process is very simple and allows for you to come to the salon, have a relaxing break from your busy schedule, and have your hair done! Every visit we remove the hairpiece, clean the scalp thoroughly, and re-apply the hairpiece for a secure fit. You will be able to enjoy your life without worrying if others are noticing you're balding. Life is too short to worry!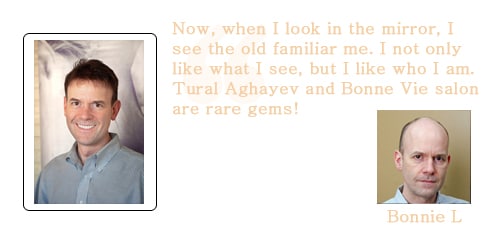 We Offer:
Front Coverage
Partial Top Coverage
Full Coverage
Why choose a hairpiece? There is nothing like waking up in the morning, and having the luxury of a hairpiece already intact. You don't have to mess with hair creams and hoping for something to work, and you can feel confidence again that you haven't felt since your hair loss. The best thing is that even if you are someone who is looking for a temporary solution that is available to you as well! You can have the option to wear your hairpiece when you feel like it, and take it off when you feel. Male hair crafts in Orlando, FL are a great way for you to feel like you again!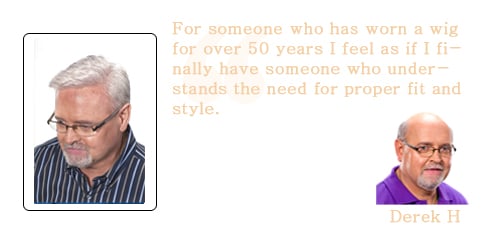 Men's Hair Loss Solutions in Orlando
Male baldness in Orlando, FL, or Androgenetic Alopecia (MPB) is responsible for more than 95% of hair loss in men. Male baldness is a significant problem facing men today, and by age 35 two-thirds of American men will experience a noticeable amount of hair loss. This number goes all the way up to 85% by the age of 50. The Bonne Vie Salon understands male balding in Orlando, FL and offers solutions that can help adjust to the loss of your hair. Whether you are partially balding, or experiencing significant hair loss, we are here to discuss your options.
Contrary to popular belief, most men who experience male baldness are often plagued with remorse and discomfort. Though it may appear that women have more attachment to their hair, men have the olgae attachment, and often look for solutions that will look natural and remain comfortable. Waking up in the morning does not have to be a struggle, and you don't have to feel self-conscious about your hair.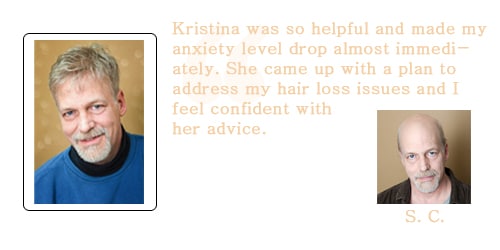 With the thousands of creams and solutions claiming to offer real hair growth results, it can become daunting and it may be difficult to find a treatment that works. That is why we offer custom hair pieces for men that will allow you to have control over how you look, giving you the personal freedom to have hair once again.
There are solutions for male baldness in Orlando, FL that don't require extensive hair creams, or invasive surgery. The trained stylists at Bonne Vie Salon are happy to meet with you and discuss how we can help with your male baldness. Stop feeling uncomfortable and your hair loss and trust the experts at Bonne Vie salon in Orlando, FL to ensure you feel good about yourself once again!
Get Your Free Consultation
Contact us today at 407-875-2525 for a free consultation for Men's Hair Loss and Hairpieces for Men in Orlando.