Eazy Brow
Keep Your Eyebrows Looking Beautiful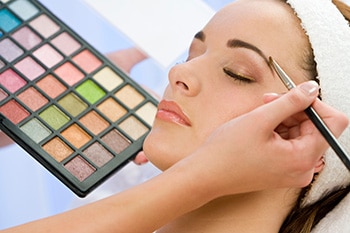 For those suffering from eyebrow hair loss in Orlando, FL, there is a way to get back your eyebrows and your confidence! Eazy Brow in Orlando, FL is the best and easiest way to help keep your face looking natural while going through medical induced hair loss. As one of the best salons in Orlando, FL Bonne Vie wants to help you feel like your old self, even while going through a difficult time.
Eazy Brow was invented for anyone experiencing eyebrow loss due to chemotherapy, alopecia, trichotillomania, burns, or medications, and is the most natural looking eyebrow on the market today. Cancer treatments are harsh for your hair on your scalp, but what many don't realize is these treatments are equally as detrimental to your eyebrows. Many of us go through life not recognizing the importance of having eyebrows on your face, they not only help a women look and feel beautiful but they are also used for facial expressions. We often speak with our eyebrows, and once you have experienced the awful circumstance of not having them, it becomes clear just how much they are needed for every day comfort and expression. Eyebrows are even known to help people concentrate better!
Eyebrows come in many different shapes and sizes, and the trained stylists at the Bonne Vie Salon in Orlando, FL can help you pick the most natural looking brows for your face. Whether your brows are thinning, you want to shape your over grown eyebrows, or you are without eyebrows, Eazy Brow is the easiest way to fix your unwanted eyebrow situation.
How does it work?
Eazy Brow in Orlando, FL is done by a trained stylist, and is used as a precise outline for various different eyebrow looks. We choose the best style for your face, measure the appropriate placement, and create beautiful eyebrows that look natural and keep you confident! As a Cancer Salon in Orlando, FL we are dedicated to helping you through each phase of your medical induced hair loss. We're here to keep you feeling good and fight against cancer!
Bonne Vie Salon also offers the best Mink Eyelash Extensions in Orlando, FL. Mink eyelashes are a luxurious, pure form of eyelash extensions, and are made of real animal fur. These beautiful extensions have been seen on celebrities such as Madonna and Beyoncé. Top celebrities choose Mink Eyelash Extensions because of their high quality. The Mink eyelash extensions do not touch your skin, or harm your natural eyelashes. They are delicate and lightweight, which allows for our eyelash extension stylists to attached multiple extensions per lash. In only 90-120 minutes you will have the long, luxurious lashes you see on the rich and famous!
Whether you choose "The Lashe" Eyelash Extensions, or Mink Eyelash Extensions, our natural looking extensions will make your eyes pop. Eyes are the focal point for everyone, and now you can have beautiful, long lashes that will make people think, "I want eyelashes like those!"
For the most glamorous look for special occasions, try Orlando's best eyelash extensions. Schedule your appointment today – and flutter your amazingly long lashes for weeks to come. Come in to Bonne Vie Salon today for Full Eyelash Extensions and receive a $50 gift certificate towards any hair service!
Call For Pricing 407-875-2525