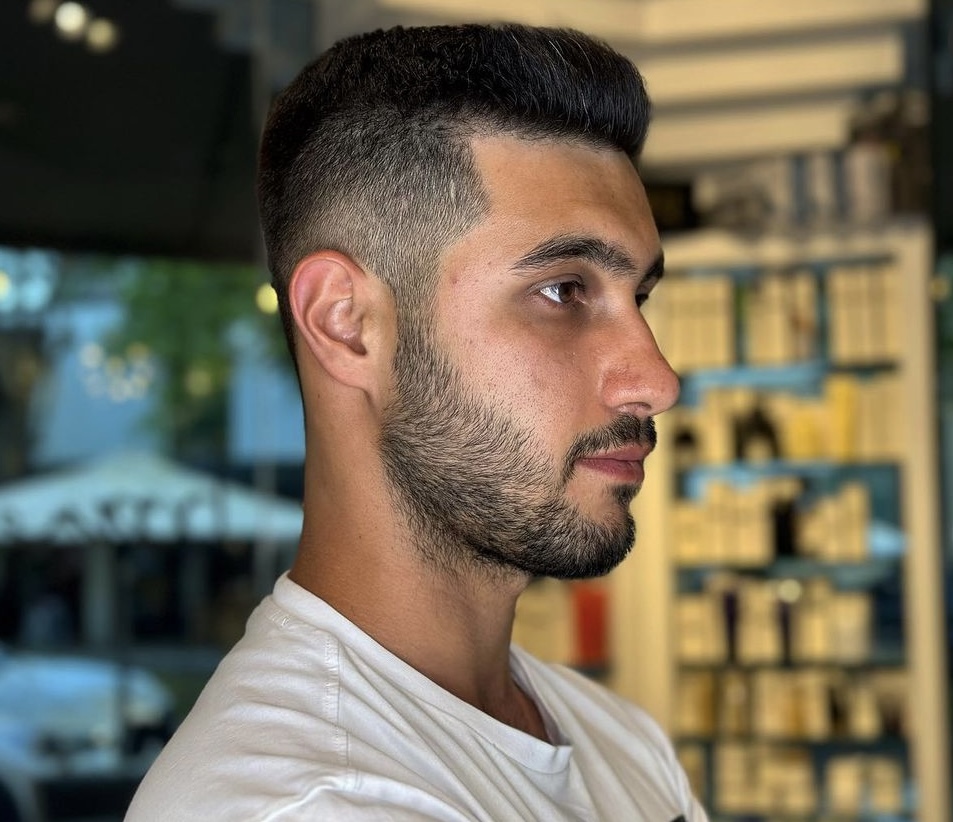 Color Touch-ups for Men
Color Touch-ups for Men with Barber in Winter Park
In today's fast-paced world, appearances matter more than ever before. It doesn't matter if you're looking your best for personal or professional reasons; doing so may help you feel more confident and make an impression that will remain. The importance of a well-groomed appearance for males cannot be overstated, yet one facet of grooming that is sometimes neglected is the choice of hair color.
Men in the quaint community of Winter Park, which is located in Florida, have the extraordinary chance to improve their appearance by getting color touch-ups at their neighborhood barbershop. Next, in this article, we will discuss the positive aspects of color touch-ups for males as well as the reasons why Winter Park is the best location to have the work done.
The Rise of Men's Grooming
Women used to be the only ones who worried about looks and appearance, but those days are long gone. Males and females alike are preoccupied with their appearance in today's culture. With more men looking for services beyond just getting their hair cut, there has been a significant shift in the male grooming business. Various factors, such as the development of social media, the influence of male celebrities, and a better awareness of the need for self-care practices, may be attributed to this trend.
One aspect of personal care that has recently gained attention is hair color. Men are becoming more conscious of how a subtle color change may boost their confidence, improve their overall appearance, and cover gray hair. Going to a barber in Winter Park is a fantastic choice since it requires a professional's expertise to get a natural and polished finish.
The Benefits of Color Touch-Ups for Men
Confidence Boost
While gray hair is an inevitable sign of aging, not everyone embraces it. Gray hair can make some men feel self-conscious because they see it as a sign of age. Color touch-ups provide a straightforward answer to this issue. Your confidence will soar when you work with a trained barber to select a natural shade that matches your skin tone. There are many benefits to men's hair touch-ups.
Youthful Appearance
Gray hair might make you look older than you actually are, which may not reflect how you feel on the inside. Without taking severe steps, color touch-ups can help you keep a more youthful appearance by erasing years from your appearance.
Versatility
Color touch-ups have a huge range of applications. A skilled barber can customize the color to your tastes, whether you want a slight alteration or a more dramatic one. Experiment with a few different hues to determine which tint best suits you.
Professionalism
In the realm of business, looks count. An impression of refinement and sophistication may be conveyed by having well-groomed hair with a hint of color. In occupations that demand client meetings, presentations, or public appearances, this can be very helpful.
Enhanced Style
The addition of hair color can improve your entire look. It may enhance your wardrobe decisions and help you stand out in a crowd. The appropriate color touch-up may help you create a uniform and fashionable appearance.
Bonne Vie Salon: Why?
Florida's Winter Park is well known for its beautiful scenery, strong cultural scene, and dynamic local economy. It should come as no surprise that the city has some of the greatest salons and barbershops in the area, like Bonne Vie Salon. Bonne Vie Salon provides a number of convincing reasons why it should be your destination of choice for color touch-ups for men, including:
Expertise
At Bonne Vie Salon, barbers are renowned for their skill and precision. Thanks to the hair salon's expertise and training, you will receive the greatest color touch-up experience possible. They may produce excellent results whether you desire a modest modification or a significant makeover.
Customization
Every man has different demands when it comes to grooming. Barbers in Winter Park are aware of this and provide unique color options. They will consider your hair type, complexion tone, and fashion choices to design a look that is uniquely you.
Quality Products
When it comes to hair color, quality counts, barbers at Bonne Vie Salon offer top-notch, salon-grade hair color supplies to provide results that last and appear natural. These products offer a better finish while being less harmful to your hair.
Relaxing Environment
The experience is just as important as the service when going to Bonne Vie Salon in Winter Park. You may unwind and enjoy the grooming procedure at any one of the several barbershops in the neighborhood.
Community Feel
Bonne Vie Salon has a strong feeling of neighborhood. By going to a neighborhood barber, you integrate yourself into the community and strengthen your sense of connection.
The Process of Color Touch-Ups for Men
Now that we are aware of the advantages of color touch-ups and why Bonne Vie Salon in Winter Park is a great place let's examine the procedure in more detail:
Consultation
Your barber will conduct a consultation to start the trip. You may convey the look you want, ask questions, and get expert guidance throughout this conversation. To provide the best color suggestions, the barber will evaluate your hair and skin tone.
Color Selection
You'll decide on a hair color that matches your own tastes and the barber's suggestions while enhancing your natural characteristics. You may choose whether you want to make a modest adjustment or a dramatic statement.
Application
The barber will meticulously apply the chosen hair color, guaranteeing even coverage and a natural appearance. It usually takes some time to complete an application, so take your time, unwind, and enjoy the process.
Processing
The color takes time to develop and set once it has been applied. This makes it possible for the color to adhere to your hair and produce long-lasting effects. The processing time may change depending on the product used and the intended result.
Rinse and Styling
The barber will thoroughly wash your hair when the processing period is through to remove any extra color. After that, they will style your hair perfectly while ensuring the color touch-up blends well with the rest of your outfit.
Maintenance
For effects to last, you must maintain your newly colored hair. Your barber will give you instructions on how to take care of and maintain your colored hair properly, including how to use color-safe shampoos and conditioners.