Micro-Point Solutions for Women with Hair Loss
View Our Hair Loss Brochure
When you experience women's hair loss in Orlando, FL, it can seem like nothing will truly feel like your real hair again. You may try so many different products on the market, but nothing really works. Fortunately, Bonne Vie Salon in Orlando, FL has the most advanced technology in the industry for women's hair loss, and you now have the opportunity to have a beautiful head of hair like you once did.
Micro Point Solutions in Orlando, FL eliminates the stress of hair creams, weigh less than traditional hair extensions, or other balding solutions. With Micro Point Solutions you are able to experience beautiful, lightweight hair that will give you the appearance of a full head of hair. As the leading hair loss solution on the market, it mimics the feeling of real human hair making it indistinguishable from your growing hair. As a micro hair, it allows for durability, longevity, and density to be added to your current strands of hair. Even if you have been told you are not a candidate for other leading types of hair extensions, micro point solutions can still work for you!
How Does Micro-Point Hair Extensions Work?
Using an advanced knotting technique, Micro Point Solutions at Bonne Vie Salon in Orlando, FL is attached safely without any chemicals or adhesives. Our trained stylists knot each hair extension by hand, attaching 4 cyber hairs to a single strand of hair and bending them appropriately. It instantly increases the density of your natural hair. In one sitting you can increase your hair volume by 400%! There is truly no other hair loss solution on the market, and it is available to you at Bonne Vie Salon in Orlando, FL.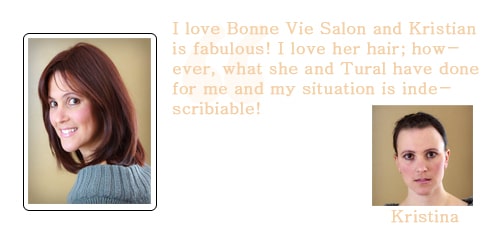 Without compromising the integrity of your current healthy hair, you can add volume and beauty to your hair, and say goodbye to hair loss! Micro Point Solutions in Orlando, FL is the most innovative technology used for hair loss today. If you are experiencing hair loss and are looking for a beautiful, non invasive solution, then we are here to help!
Get Your Free Consultation
Contact Bonne Vie Salon today at 407-875-2525 and learn how you can say goodbye to the worries of hair loss for women with Micro Point Solutions in Orlando, FL!