Treat Yourself with Bonne Vie Reward Points
We get it: you work hard and it's only fair to treat yourself from time to time. And now it's even easier to do just that with Bonne Vie Rewards.
Each time you come in for a salon service or to purchase products and gift cards from us, you earn reward points that can be redeemed on a fantastic range of services.
Enrolling is free and easy.
How it Works
Ask one of our receptionists to enroll you in the Bonne vie Rewards Program. For every dollar you spend at Bonne vie Salon, you automatically earn 1 point. Bonus points are awarded for attending special events or by taking advantage of special promotions. Have a friend, colleague or family member wanting to experience at Bonne Vie Salon? Send them our way, have them mention you and you'll receive 50 bonus points.
Once you've accumulated enough points for your reward of choice, simply let us know when you book your next appointment, or give us a call. We'll take care of the rest!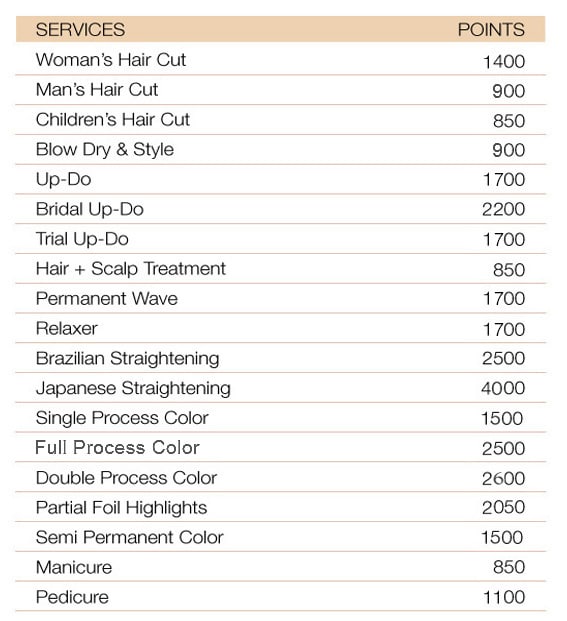 Terms and Conditions
Bonne Vie Salon Rewards Points are based on the purchase price of services only, excluding taxes and tips. Points will begin to accumulate on the following visit after signing up for the Bonne Vie Rewards Membership. Points have no cash value and are non-transferrable. Points cannot be retroactively added to an account. Unredeemed points expire once a year on the customers' membership anniversary.
Bonne Vie Reward Dollars are valid for 12 months after issuance. Bonne Vie Reward Dollars have no cash value. Reward Dollars may not be used towards Gift Certificate Purchases used to pay for sales tax on retail items or gratuity for staff members.
Bonne Vie Salon Inc reserves the right to change or discontinue the Bonne Vie Reward Program at any time without notice.