Bob: The Hottest Cut For Fall!
Bonne Vie Salon asks you to take a look in the mirror and ask your hair if it had a good time this summer. If it could answer, chances are your frazzled beachy waves might say, "Frankly, Darling, I am a little sun-and-sea damaged, and I'm feeling a little limp, dull and dry." You can reassure your hair that it will recover from all your summer sun and fun, after a fashionable cut and style from Bonne Vie. Then you can promise your hair to stick to a new Autumn schedule for your conditioning regime. bonneviesalon.com Bonne Vie Salon will transport you from end-of-summer drabness to fabulous Fall freshness.
Bob: A Bouncy, Beautiful and Becoming Style!
From the Back-To-School hall-ways to the New York City Run-ways, Fall is a season for change. As Fall comes to Winter Park, we are seeing more and more women who are changing up their look with modern takes on a classic favorite, the Bob. In her book, "Archives: A Book About Hair," Wendy Iles is quoted as saying, "Bobs are modern, classic, and feminine, making them a great choice." A glance at any fashion magazines or a stroll through Bonne Vie Salon reveals how our expert hair stylists are sculpting, coloring and designing new looks for Autumn based on the timeless hairstyle known as the "bob."
A Guide For The Bob: The Ultimate Cut For Fall Fashion:
This amazing cut can be artfully designed to highlight your unique personality. The following are a few popular varieties you and your Bonne Vie stylist can personalize! 1. Are you mischievous, and casual, and a little witty? You might like your bob with feathered ends! According to the Fall-Winter preview issue of Hair magazine, you might like this one length bob that skims your jaw line. The hair fluffs out slightly longer in each side of the front. 2. Are you professional, straight forward and a little daring? Let's Get Geometric! Since Bonne Vie is owned by Vidal Sassoon trained Emil, you can imagine how dramatic you will be with the sharp angles and blunt edges of today's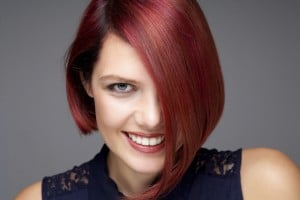 geometric styling in a geometic bob. It's anything but retro. 3. Are you dramatic, strong-willed and a little sultry? Your style choice might be the asymmetrical bob, which the stylist artfully shapes shorter on one side than the other. For day, you can pin the long side a little bit back, but for night, let it drape over one eye while you smolder.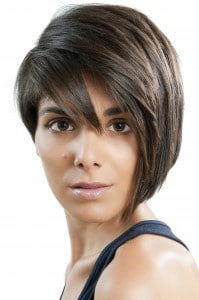 4. Are you trendy, fashion conscious, up-to-the-minute and a little wild? Show off your individuality with in a bob with slightly choppy texture or piece-y ends. According to Hair magazine, Riawna Capri of Nine Zero One Salon in West Hollywood, CA, says such a cut will still be a bob, but "add some funky flair by getting rid of that "perfect hair" look." Think about Julianne Hough's style, or Blake Lively's longer, choppy look. The November issue of Haircut & Style magazine says, "High-lift bobs with imperfect texture are a look we're loving for fall." Sometimes this style is clipped two inches shorter in back than in front, and then imperfect texture is expertly added with exterior layers on the sides. 5. Do you long for the chic style of the bob, but you do not want to cut the length it took you all summer to grow? Then you might opt for the longer version of the bob, cleverly called the "lob." Since it is a long bob, you can retain the ponytail of summer as an option all year long, or wear an updo to the festivities of the party season ahead of us. At Bonne Vie Hair Salon in Winter Park, Florida, we feel fortunate to feature highly skilled stylists who can re-shape your summer hair with a trim or bring you an entirely new look for the new season. Thank you for reading our blog this week. We hope you return next week when we present you with another of Fall's hot looks: Bangs! We'll be giving you a hair owners guide to the many ways bangs can be cut and styled, in "Bangs–Shooting For a Fabulous Fall."