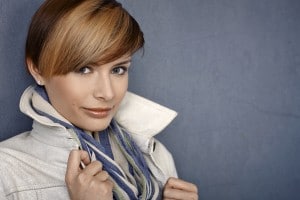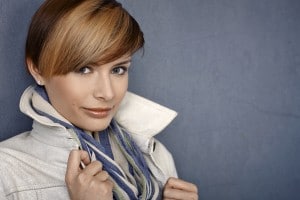 With Bonne Vie and Micro Point technology, your stylist can make your dream of a rich, full head of hair a reality. It's true. Our clients can correct and plump up thin, fine hair with our Micro Point Solutions® technique.
How would it feel for you to have the luxury of hundreds, perhaps even thousands, of extra hairs to add volume, lift and beauty to your style? If you have always struggled with thin, fine hair or if age has thinned your hair, you might think that there is no way to add to your hair without surgery or chemical adhesives!
1. The Invisible Gift:
Our Micro Point solutions bring you a non-surgical hair answer that is  uniquely natural in appearance and behavior.
2. The Natural Choice:
No Damage! No heavy chemical scalp creams! No adhesives! No Surgery! Your Bonne Vie stylist will apply lightweight, comfortable, strong hairs, to your natural hair, using micro-mini extensions. With a special knotting or "bead" technique, your trained stylist will carefully design your new, full mane of hair.
3. The Hollywood Secret:
The experts say that for the problem of thin hair, "One solution stands out by being almost invisible."  Known as the "healthy alternative to extensions", Micro Point Solutions® offers "patented options for fine or thinning hair."
The Micro Point system is available in a multitude of colors, and a beautiful array of textures. It will be virtually  indistinguishable from your natural hair, and it will not fade or lose its texture. This system is also a wonderful option if you want to add high-lights, low-lights or swashes of fantasy colors to your style without changing the natural color of your hair.
4.  The Orlando Mermaid's Secret!
You need not change your active lifestyle.
Bonne Vie Magic
The Invisible Beauty of Micro Point Solutions®
We know you do not want to give up any one of our favorite Florida past times of swimming, splashing and floating in the water!  Amazingly, hair with the Micro Point Solutions, loves to get wet! Wet or dry, Bonne Vie knows you will love your luscious new strands.
You can read more information about the durability, heat-resistance, and color-fast qualities of the Micro Point Solutions system at this convenient source. Likewise, we have created a special page about this technique;  click and see on this very website!
Remember, if you hair is thinning across the top of your head, or you have noted hair loss at the sides and back of your hair, ask yourBonne Vie  consultant about  Micro Point Solutions.
The Amazing Rewards of Beauty: A Card For The Good Life!
At Bonne Vie Salon, our approach is personal and individual. We love finding ways to reward our clients for their loyalty. Have you enrolled in our awards card program yet? If you have not yet become a part of this exclusive reward club, please ask a receptionist to enroll you.
Our reward points will add up quickly when you have an appointment, purchase products or buy gift cards from us. Every dollar you spend earns a point toward your choice of many of our wonderful services. Find out more by clicking on the "Rewards Card" at the bottom of our home page.
As always, Bonne Vie thanks you for reading our blog this week, and we hope you enjoy the "Good Life," every day!