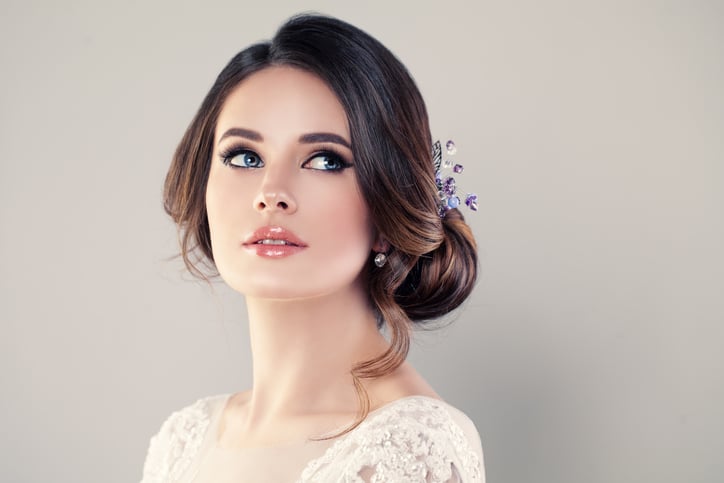 Wedding Hairstyles
Summer is here and often time, there are a lot of weddings in summer. If you need to find a great hair stylist for your wedding, Bonne Vie has professionals who can help you create the exact hairstyle you are looking for at your wedding! We can create many styles: from effortlessly sophisticated, messy alternatives to romantic classics.
Wedding Hairstyles
Best bridal hairstyles
In order to get the perfect bridal hairstyle, you need to hire a professional bridal hair stylist. Just like you hired a professional makeup artist for bridal makeup, you should hire a professional hairstylist for your bridal hairstyle.
Only professional stylists have the perfect idea that what hairdo is suitable for your special day. These hairstylists are aware of hairstyles that complement your beauty. They know the way to adjust your hair according to your face, makeup, and wedding dress.
Only professional hairstylists are aware of tactics to make hairstyles which look great from every camera angle.
So, you will look perfect, no matter from which angle shutterbugs capture your shot. Professional hair stylists know ways to handle different hair types. You can even ask for curls or straight hair to transform your look on your wedding day. They even know how to handle the bride's nervousness as well as tantrums on her wedding day! View wedding hairstyles ideas.
Our professional stylists are carefully selected experts in styling, coloring, up-styles, and the latest trends for everyday or special occasions!
A romantic bride can be a princess bride. Bonne Vie will be able to assist with the hair style you are looking for based on your facial feature, dress, and color preference.
In case you are thinking that where you can find professional hairstylists who are mavens making bridal hairstyles? Do not waste your precious time thinking; there are reputable and trustworthy and offer full-fledged services for bridal hairstyling.